---
Vertical Food Shields
<< Back to Main Food Shield Categories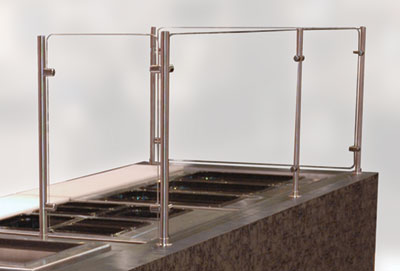 Click To Enlarge
Model #: SGCC-36
List Price: $4343
Food Shield Style: Vertical
Description: Vertical Food Shield, 36" wide, height as specified (top of glass must be at least 60" above the floor), 1/4" heat tempered glass front & side panels (bottom of panel not more than 6" above work surface to meet NSF requirements), requires side shields for stability. If side shields are not being used, posts must be extended through countertop for added stability (Note: food shields are also known as sneeze guards or breath shields)
Weight: 139 Gauge: 18 Cubes: 9




Specs

Add to Quote Cart?

Printer Friendly
---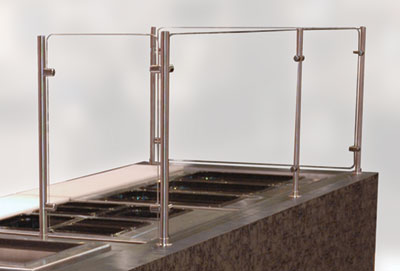 Click To Enlarge
Model #: SGCC-48
List Price: $4797
Food Shield Style: Vertical
Description: Vertical Food Shield, 48" wide, height as specified (top of glass must be at least 60" above the floor), 1/4" heat tempered glass front & side panels (bottom of panel not more than 6" above work surface to meet NSF requirements), requires side shields for stability. If side shields are not being used, posts must be extended through countertop for added stability (Note: food shields are also known as sneeze guards or breath shields)
Weight: 194 Gauge: 18 Cubes: 11




Specs

Add to Quote Cart?

Printer Friendly
---
---
Nationwide Manufacturing & Distribution

New York

Georgia2

Tennessee

Texas2

Mississippi2

South Carolina

Nevada

Kentucky