Page 132 - Advance Tabco 2019 Product & Price Guide
P. 132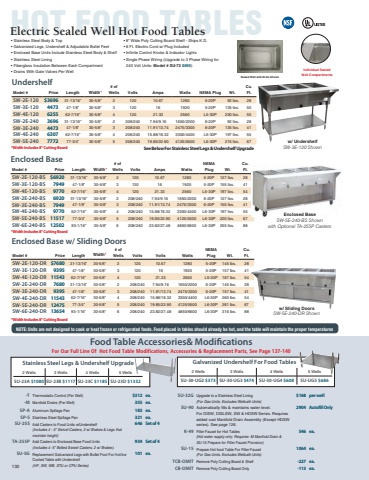 BUFFET TABLES For Use with Optional Spillage Pans
hani
cold Pan tables With enclosed base
M
t Ta
1/4" Thick, Double Sided Thermoplastic Polymer Sneeze Guard And Side Panels
4" Swivel Casters, Two With Brakes
Includes Food Pan Adapters For optional 12" X 20" Pans Matte Black Vinyl Clad
Pre-Drilled For Optional Solid Drop-Down Tray Shelf available for one or both sides
Single Phase Wiring
6' Electrical Cord With Plug
To Omit Sneeze Guard use Model # BSG-OMIT deduct $350
ec
ly A
cal
ver
ssis
ted E
y Bu
bles
yda
ffe
            • Stainless Steel Top, Liner And Body
• Self contained condensing unit provided with a hermetically
sealed compressor with a digital, programmable thermostat
• Full Insulation With 22 Gauge Galvanized Outer Jacket
• Removable access door to compressor
• Fiberglass Insulation
• High Cooling Capacity
• Sight Glass To Ensure Properly Charges System
• Low Running Current
• Precision Thermostat For Exact Temperature Control
• 1" I.P.S. Drain
•
• • • •
• • •
 Model Price
BMACP2-B-SB $9322 BMACP3-B-SB 9962 BMACP4-B-SB 10475 BMACP5-B-SB 11155
# of NEMA Length Wells Plug
Refrigerant
Wt.
250 lbs. 300 lbs. 345 lbs. 395 lbs.
Cu. Ft.
30 43 55 68
 31-13/16" 2 5-20P R404-A 47-1/8" 3 5-20P R404-A 62-7/16" 4 5-20P R404-A 77-3/4" 5 5-20P R404-A
Enclosed Base
BMACP3-B-SB Shown
          NOTE: Units are not designed to cook or heat frozen or refrigerated foods. Food placed in tables should already be hot, and the table will maintain the proper temperatures
SU-71 5 Year Extended Parts Warranty on Refrigeration Unit $461 Per Unit (Available for Refrigerated Tables & Drop-Ins. See Back Inside
Cover For Full Details)
    WARNING: Refrigerated Equipment on this page may expose you to chemicals, including Ethanes, that are known to the State of California to cause cancer or birth defects or other reproductive harm. For more Info.,visit www.p65warnings.ca.gov.
   eVeRyday buFFet cash RegisteR stand
eVeRyday buFFet silVeRWaRe stand
• 20 Gauge, 304 Stainless Steel Frame • Locking Drawer
• 4" Swivel Casters With Two Brakes
• Open Storage Area
• 20 Gauge, 304 Stainless Steel Frame • Incudes 12 Plastic Silverware Cups
• 4" Swivel Casters With Two Brakes
• Matte Black Vinyl Clad
• Access Hole For Power Cord • Matte Black Vinyl Clad
Model Price Length
BCRS-B $2291 22.7"
Width
22.7"
(Cash Register not included)
Height Wt. Cu. Ft.
34.4" 140 lbs. 19
Model
BSWS-B
Price
$2792
Length
31.875"
Width
22.4"
(Trays & silverware shown not included)
Height Wt.
40" 160 lbs.
Cu. Ft.
28
CONNECT IT!
Prepare Tables To Be Locked Together While Keeping Them Lined Up! (One Charge For Each Table To Be Interlocked) SU-19 $513 per table
   Food Table Modifications & Accessories
For Our Full Line Of Hot Food Table Modifications, Accessories & Replacement Parts, See Page 131-134
  130
209
ea.
TCB-OMIT CB-OMIT SP-A SP-S
ea. 119 ea.
SU-6 SU-19
SU-72
SP-S - Spillage Pan
Remove Poly Cutting Board Remove Poly Cutting Board Only Aluminum Spillage Pan Stainless Steel Spillage Pan
-$200 -100 ea.
SU-6 - Push Handle
Hot/Cold Food Table Handle
Prepare Hot Tables To Be Locked Together
(One Charge For Each Table To Be Interlocked)
Upgrade 240 volt units to 3-Phase Wiring
$161 ea. 513 ea.
448 ea.